Dance Commissions and Licensing
The Junkman™ has always maintained a keen interest in working with dancers and choreographers. Throughout the years, he has composed and performed music with an extremely broad range of styles: from classical ballet to avant garde, from industrial to jazz.

And he has collaborated with dance companies both large and small, including American Ballet Theatre, Dance Theatre of Harlem, Washington Ballet, American Dance Festival, The Kennedy Center, Ballet Manchester, Twyla Tharp Dance, Pittsburg Ballet Theatre, Sommerballet pa Frederiksberg, Boulder Ballet, Twyla Tharp, Murray Louis, Bella Lewitzky, Anna Licea, Donna Sternberg, Linda Swiniuch, Motion X, Eva Dean Dance, and Introdans.
His collaborations with dancers and choreographers involve a high level of sensitivity, ethics, humanity, attention to detail, and dedication to the ideas and goals of the collaboration.

Always punctual and professional, The Junkman has worked in all settings, from focusing purely on the big picture to the micro management approach, in which each and every detail of movement and energy receive patient attention.
The main ingredients The Junkman applies to all collaborations are listening, openness, and flexibility.

The Junkman™ is available for bespoke music scores that can be created to include or not include his presence as a performing musician.

An album of dance music is available for listening upon request and his existing music catalogue is also available for licensing.


JPEDM
Knaack is currently involved in producing his JPEDM (Junk Percussion Electronic Dance Music) several tracks have been licensed to Nike, The NBA, and Electronic Arts. This track, Abracadabra is a part of an eleven track FOOTLOOSE project which is scheduled for a September release. Other tracks can be made available to you via a personal request.
Sound Sets
In addition to composing and performing, The Junkman has also designed and constructed Sound Sets, which are stage sets that produce sounds.

 

In most cases, the dancers activate the sounds via their movements, which is integrated into the score of the music. Sound Sets are usually constructed from reused materials, but can also feature electronics and robotics.

 

The New York Times raved, "
…sound sets by Donald Knaack that are ingeniously simple and often ingenious."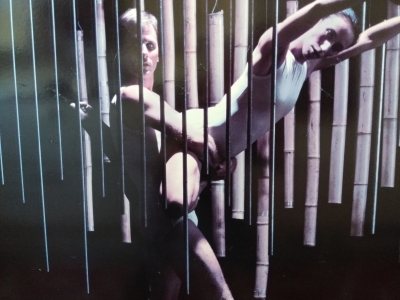 Confines
Confines was commissioned and premiered by the Lewitzy Dance Company at The Music Center, in Los Angeles, CA. Confines is about the confinements
the average person faces in today's modern world. The work consists of three movements.
Labyrinth explores the confinements in relationships, love and marriage. Cell Without Walls
looks at the confinement of women in the workplace, at home, and in motherhood. 
Portable Stockade investigates the confinements modern adults face carry around with them each day such as addiction to a particular sport, hunting, family, work, etc.
The Los Angeles Times stated: "Knaack's music to Confines is fresh and exciting. Equally exciting are Knaack's Sound Sets – sound sculptures activated by the movement of the dancers which integrates into the music score."

 
Confines toured the US and Europe for four years including most major dance venues.
Surfer at the River Styx
The Junkman's most successful composition for the dance has been Surfer at the River Styx, for choreographer Twyla Tharp, and commissioned by and premiered at the American Dance Festival and The Kennedy Center. The score to Surfer was performed and recorded by The Junkman™.The coda was composed by The Junkman™ and legendary rock producer David Kahne, who also mixed the final version.

 

Surfer has toured worldwide and garnered many successful reviews:
"For Surfer, she has found a perfect collaborator in Donald Knaack, whose music she used so wittily in a now-celebrated duet for Ethan Stiefel and Susan Jaffe in her Known by Heart for the American Ballet Theatre. Mr Knaack meets Ms Tharp on the same maverick level of energy and rhythm." – The New York Times

"Surfer has many stars– Knaack's music being one of them. He is Max Roach extended– the virtuoso drummer in the dumpster." – The Washington Post

"The more substantial Surfer at the River Styx is set to a dark, swirling score by Donald Knaack." — The Independent

"Donald Knaack's percussive score drives the dancers almost as hard as Tharp's ferociously imagined choreography…. It is not only the phenomenal performers who earn this moment of release, but also the rest of us, who have been on the edge of our seats throughout this extraordinary work."– The Guardian

"Knaack created an exceptional and beautifully textured percussion score, full of multicultural references, providing Tharp with the musical match for one of her finest works to date." – Dance Magazine

"Donald Knaack's startling score combines taped elements with percussion that Knaack creates in the pit on a battery of objects– pails, pots and pans, kitchen utensils, hubcaps, bowls of keys, and more. The sounds can be terrifying or as gentle as a gamelan in lyrical mode." – The Village Voice

"Surfer at the River Styx matches its clamorous, foreboding score by Donald Knaack  with an implied scenario of doing battle with overwhelming, perhaps cosmic, forces." – New York Magazine

"Surfer at the River Styx, performed to Donald Knaack's rambunctious score for percussion. . . " – The New Yorker

"The dance is set to a a score of thunderous intensity and exceptional beauty by Donald Knaack." – The Telegraph

"Surfer at the River Styx is a relentless tour de force of sound and movement set to a score of thunderous intensity and exceptional beauty by composer Donald Knaack."—DanceTabs
Moving Towards Eternity
Moving Towards Eternity was commissioned by Eva Dean Dance of Brooklyn, NY and premiered at the Prospect Park Dance Festival in Brooklyn. The music is a part of the Fork in the Road which is the third leg of her Liquid Silver Trilogy. The New York Times stated: "The music of Donald Knaack was exhilarating in its support of the narrative and its choreography."