The Standards
The Junkman™ offers a variety of programs to schools: Interactive Assembly Concerts, Workshops, Ensembles, Make-and-Takes, and Residencies. Here you will see the Standards and Learning Opportunities present in each of The Junkman's programs for schools.
Click PDF icon below to download The Junkman's™ Teachers Guide
The Junkman's™ Overall Standard
"I love children, I love music, I love Mother Earth, and I love teaching. I love passing my dedication to the things I love on to the children in such a way that instills in them the desire to become an active and positive participant in music and the environment and to have great FUN in the process!"
Junk Music and the UK National Curriculum
See how Junk Music school programmes meet the key stage requirements in the UK National Curriculum

Interactive Assembly Concert
Typically lasting 45 minutes to one hour, the concert features music selections that offer a very diverse array of styles, tempi and instrumentation. The concert begins with Mishmash Music which mixes together the four major families of recycled materials: wood, metal, plastic and glass. Then Wood Music, followed by Body Music using only the human body and voice, Rock Music with real rocks, Kitchen Music on kitchen utensils, an amazing percussion solo on the entire junk rack, Zen Samba which gets everyone moving and Beat the Can with its amazing virtuosity. The concert ends with an interactive Junkjam™  wherein the audience, using provided junk and sticks, gets to play along with The Junkman™ and his holistic environmental chants and messages.
Topics covered by The Junkman™ in his concert are: 
What is Junk Music™? 

Introducing the junk instruments and rack

The similarities between junk instruments and human beings
The link between music and one's heart beat

What is resonance?

Discussion of the origins of making music using found objects

Demonstrate making music with the human body and beatboxing

Interactively interactively discuss the HOP holistic environmental education program

Interactively teach the holistic eco-chants in rhythm.

What is percussion?

What is a solo? 

Interactive Junkjam™ with the entire audience using the eco-chants.

These chants include:  I am not a lit-ter- bug / Give re-spect, earn re-spect / Don't let the wa-ter run / Show kind-ness every day / Use less bath wa-ter / Turn out the lights – click / I save en-er-gy / Lis-ten first, talk sec-ond

Here is a brief video demonstration the Interactive Assembly Concert: 
Workshop
Workshops typically begin with a shorter version of the Interactive Assembly Concert and then move directly into classes (ideally 25 students or less in each class). Workshops generally range from one to four days dependent upon the size of the student body and whether or not all students are to be included in the class schedule.
The Junkman's main music goal is to instill in each student that everyone loves music because we all have the beat in our bodies (our heart). That is what draws us to music, makes us want to dance, tap our feet and listen forever. A successful workshop means that each and every child leaves the room with that knowledge, also knowing they performed as musicians in that class. This will hopefully manifest the desire in each student to remain an active participant in making music. All the aspects of being a good team player are also discussed: awareness of others and their actions, follow the leader, listening, focus and proper performance manners.
On the holistic environmental side, we take up with the eco-chants they learned in the concert and we further discuss and develop eco-chants for all the main topics: inclusiveness, water, energy, littering, less is more, change, footprint, respect, diversity, reuse, and the state of the earth.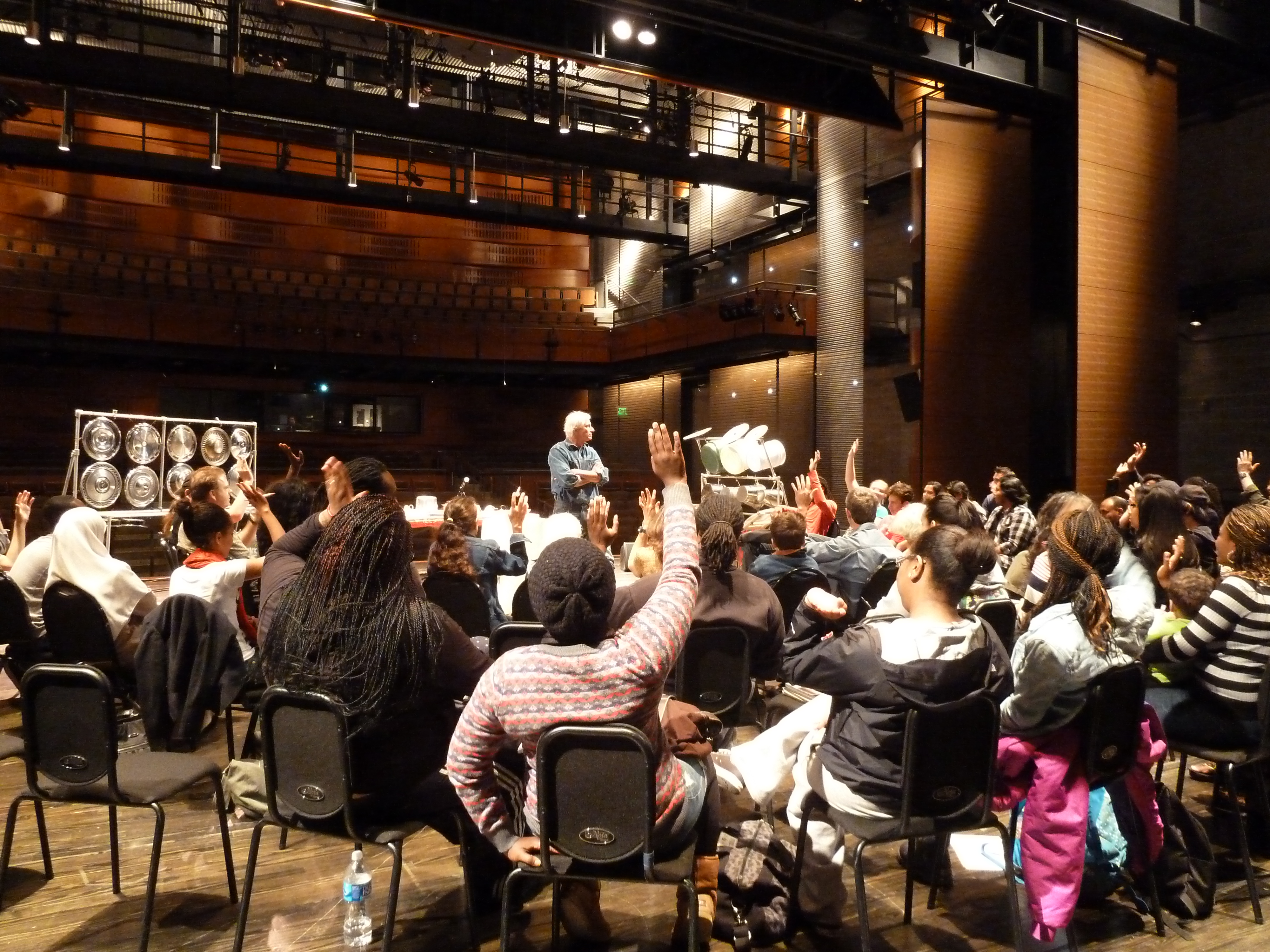 Make-and-Take
A chance for children and parents to work with The Junkman™ to create an actual percussion instrument made solely from reused and recycled materials and then take it home.
These instruments range from wind chimes made from wood or metal, a rain stick made from a plastic tube, clappers from wood, a wood and metal jingle stick, to a musical walking stick, as well as other options. The instruments vary in difficulty of assembly; The Junkman™ will make decisions as to what instruments will be available for construction based upon the age range of the attendees and whether or not those children attending will be accompanied by an adult.
These classes are generally 45 minutes to one hour in duration. Once again, the age range of attendees will determine the length of the Make-and-Take session.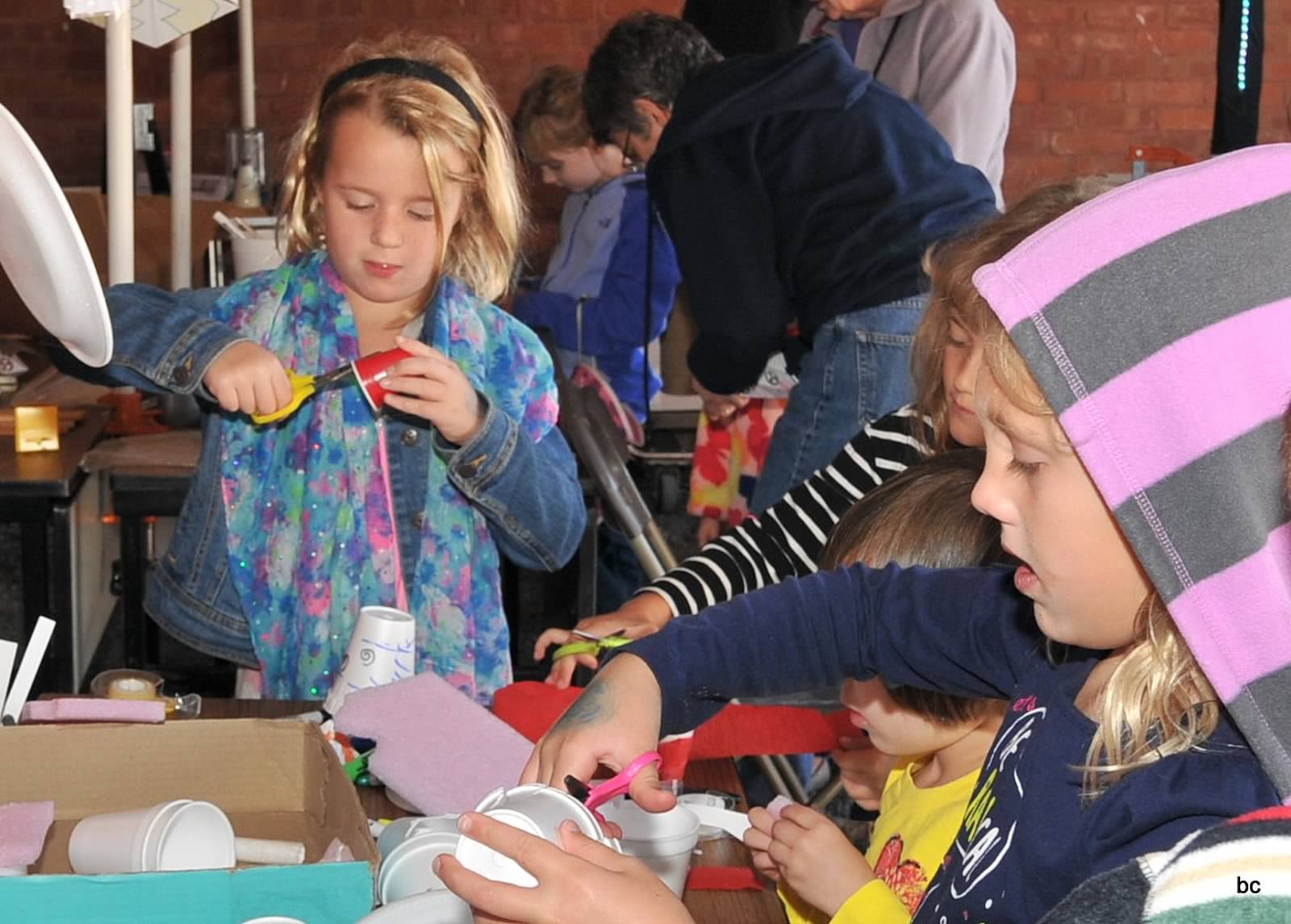 Ensemble
An on-going ensemble class for musicians and non-musicians alike.  This is an intermediary class designed to excite students about the power of music, and the fun, excitement and soul-moving energy one receives from performing exciting percussion music with a group of other people.  In the spirit of the ancient art of the drum circle, students learn the power of an ensemble , groove, and a well grounded beat – such as a samba rhythm.
The use of re-purposed materials as instruments of music immediately bypasses the uncertainties and occasional fears students can have when initially confronted with a traditional music instrument. Anyone can pick up a stick and beat upon a piece of junk.  And since drumming is an inherent human trait, everyone loves to drum.  This paves the way for the students to develop a love for performing and to gradually modulate to a traditional instrument.  There is also the fact that the students will develop a heightened sense of music-making, which leads them to develop a more broader and open perception of "What is music?".
The ensemble will first explore some basic concepts:  percussion basics (stick grip, height, and motion), general music (rhythm, meter, phrasing, dynamics, repetition, form), the use of junk and recycled materials (families of these materials-wood, plastic, metal, and glass), and the practical and safety concerns of working with these materials.
We will then move onto performing as a member of an ensemble (teamwork and creativity, behavior & posture, class composition, respect for the audience and each other), refinement of listening skills, playing a groove, developing solid time keeping, creating improvisational skills-(both solo and ensemble), counter rhythms and poly-rhythms, timbre (and how it functions in percussion), physics in percussion music, and music notation.
Finally, from day one, the class will experience Knaack's award-winning HOP (Help Our Planet) holistic environmental education program.  This program fuses specific rhythms with succinct, empowering messages designed to help students make personal contributions to a better environment for both the planet and its people.  Messages such as "Don't let the water run," "Kindness matters," "Take less time in the shower," or "Always toss it in the bin", or "Turn out the lights-click!"
In addition to the focus upon Mother Earth, there will also be a wider focus upon other environments in which the students are involved:  ethics, good citizenry, and no-bullying.
This class will have periodic Junkjams (impromptu or scheduled jams with the public using junk materials) and concert(s) for the community and/or school.
Residencies
The Junkman™offers two different types of residencies. The first is a music-based residency. Each class in the school will be assigned a material (such as wood or metal). The members of each class and parents then comb their houses and garages looking for objects made from their assigned material. These materials are then brought into the respective classrooms. The Junkman™ then works with each class to make instruments or sound-producing objects and then to make a music composition for their instruments. The materials, instruments and the music compositions of each class will be totally unique to that class.
The second type residency is a sculpture-based residency. The Junkman™ and students construct a sound sculpture made exclusively from recycled materials in which up to 20 students can simultaneously perform upon. The sculpture, known as a Junk Music™Playstation, is a permanent installation which most schools place on the playground. The Junkman™works in advance with a school contact to gather all the recycled materials prior to the beginning of the residency.
Both the music-based residency and the sculpture-based residency include and expand upon all the above-mentioned topics. As both types of residencies are construction oriented, here are the areas covered in each residency: practicality and functionality in design, measuring and marking, leveling, sanding & filing, using the basic tools: screw drivers, pliers, wrenches, hammer, vice grips, and electric saw & drill, mounting and suspension, nodal points, cutting, color design and painting. All are accomplished with the highest level of safety for each individuals' body, eyes and ears.
Both types of residencies open with a short introduction concert for the entire school and the residency closes with a public performance in which the students demonstrate what they have learned.
Here is a short video of scenes from the closing concert of a music-based residency:
Examples of Sculpture Building Residencies:
Kind Words about The Junkman™
"Of all the artists that have done residencies in my tenure in education, The Junkman was the best.
 I was extremely impressed with his message and what he was able to accomplish with the students. " – Lakeview Elementary School
Greensboro, VT
On a scale of one to ten with ten the highest, we rate The Junkman a ten!
I wanted to thank you for coming to our school and doing such a great job with our kids.  The students had a unique, valuable, and enjoyable experience in your workshop and performance.
Donald Knaack is both a talented and capable teacher that enriched the school environment as well as the whole child.
Not only does Knaack bring out the music in an object, he does the same with people. With his friendly support and cooperation, this event was planned by the Cultural Center and Knaack as a Family Day of conservation-related crafts and music workshops. The Junkman's unpretentious humanitarianism, talents, and simple love for playing percussion provided all at once a great concert, a musically educational experience and a happy day for our Staten Island community.
He introduced the students to new and relevant information about percussion, music, acoustics, the environment and construction.